With so many options to choose from, it can be hard to find the best plus size scrubs of 2023. Fortunately for you, we put together this list of our favorite scrubs for plus-sized individuals. This way, you can take the stress out of shopping for your newest set.
Best Plus Size Scrubs of 2023: Quick Look
Note: Sorry in advance, but many scrub brands do not have plus size models to show, as we pull some of our images from Amazon.
The Best Plus Size Scrubs of 2023 Reviews
Whether you need a full scrub uniform or are only shopping for a single piece to add to your repertoire, we have you covered. Below are our favorite brands and styles for scrubs that have an excellent, flattering fit for plus-sized women.
Best Plus Size Scrub Tops
Our Pick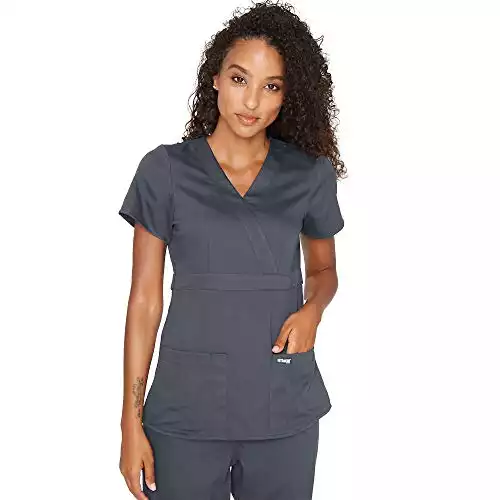 PROS: The arm holes are cut small to prevent bra exposure, the V-neck is cut shallow to prevent gaps opening at the bust, excellent color-fastness keeps the fabric looking new for years, and they are not boxy, helping maintain a feminine shape
CONS: They tend to fit smaller than advertised, and a nude-colored bra needs to be worn under most lighter colored varieties
SIZES: XX Small – 5X Large
This plus-sized Grey's Anatomy scrub top climbs to the top of our rankings for its versatility and value. Unlike other scrubs, these come in thirty colors that added personability. If you want a fresh-looking spin on the classic mock-wrap scrub, you may want to consider looking into this set.
Featuring a banded empire waist, a soft polyester and rayon build, and three deep pockets, there is a fair amount of utility in these scrubs. One of the main reasons we think these scrubs have a leg up on competitors is that the banded waist has side-seam tabs that make full-bodied women fit comfortably.
These premium form-fitting scrubs are some of the most comfortable that we have tried on in years. Although Barco's blend of polyester and rayon fibers may not be as comfortable and stretchy as elastane, we find that these short-sleeve mock-wraps are flexible enough to accommodate virtually all plus sizes.
In our opinion, these scrubs execute the classic mock-wrap design in an elegant fashion, using three pockets and tab back detail to make it appear modern and sophisticated. At 25.5 inches in length, these V-neck scrubs provide great value if you need a no-nonsense, budget-friendly solution for the workplace.
---
Runner Up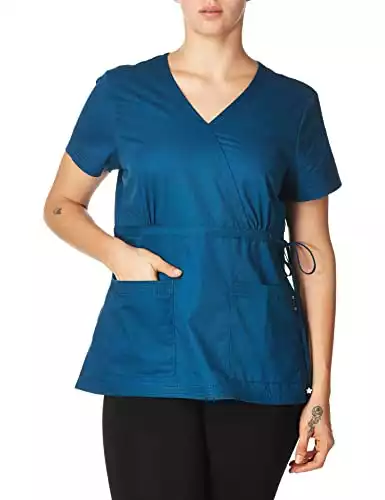 PROS: The cut is very feminine and flatters curves well, the short sleeves prevent excess fabric from getting in the way, the v-neck is cut short to prevent revealing too much skin, and the static, tight-fitting construction holds up over time
CONS: The fit and feel do not measure up to elastane-infused builds, not as stretchy as other cotton-based scrubs
SIZES: XX Small – 5X Large
This stylish plus-sized scrub top is one of our go-to choices for a fashionable fit and durable build. At a budget-friendly price point, this cotton and polyester blend features multi-needle topstitching for a relaxed fit that hugs your curves at every corner. Although they can sometimes leave little room to breathe, the snug fit ensures sanitation in the workplace.
Our favorite aspect of this scrub top is the drawstring waist which makes for a super comfortable fit around the midsection. Plus, there are two spacious patch pockets that hang at the sides which make for easy access if you need to carry tools or equipment on the job.
A quality set of scrubs is a "must-have" for any healthcare professional, and these scrubs provide just the right blend of comfort and durability to make them a worthy purchase. Plus, at a higher medium-center back length of 27.25 inches, curvier plus-sized women should have no issues fitting into these scrubs.
Regardless of your shape, we think that these scrubs are worth trying on. After all, if they aren't the perfect fit at first you could take advantage of its cotton build to alter it. With a bit of doctoring, a quality tailor can easily adjust the seams so that they fit any body size.
---
Best Plus Size Scrub Pants
Our Pick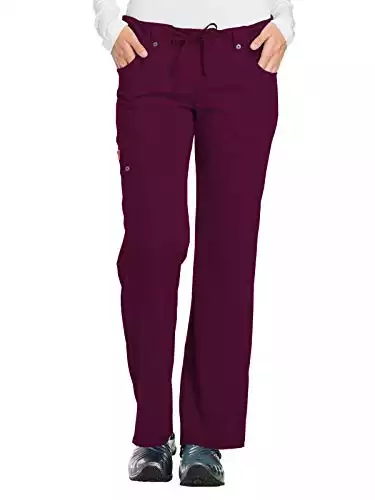 PROS: Added spandex makes for a comfortable and relaxed fit, the rich colors do not fade after multiple machine washes, side-seam hems are superior for resisting tears, available in many bright, fun colors

CONS: They run a little small around the thighs but are slightly too long at the ankles, not as flexible as other leading brands
SIZES: XX Small – 5X Large
For a look that is both stylish and professional, these stretch-fit flare leg scrub pants are a great go-to solution. Available in over 30 colors, these pants are made of three-quarters polyester, 20 percent rayon and four percent spandex. Consequently, they are among the most comfortable and durable that you will find in a budget-friendly scrub pant.
Available in sizes up to 5X-Large, these scrub pants boast a flexible drawstring waist which makes fitting a breeze. In our experience, these pants are among the easiest for finding the right size because they can usually accommodate someone a size too big or small. That's the beauty of spandex-based drawstring fabrics!
The side-split hem is a unique touch that is included in these stretch pants. Although unusual for plus-sized cotton pants, these do a great job of making sure they resist tearing and splitting at the seams. Best of all, they are fully machine-washable and do not easily degrade over multiple washes.
---
Runner Up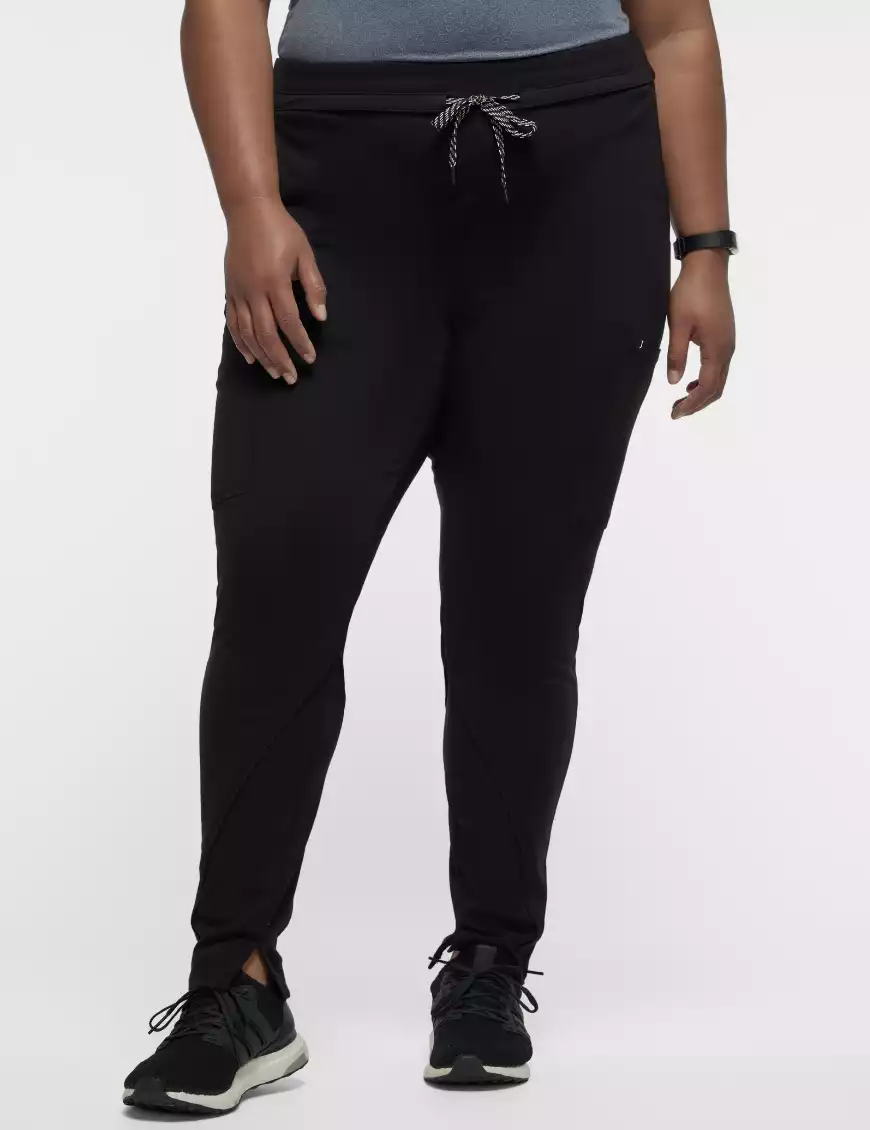 PROS: Quad-stitched fabric is ideal for a full range of motion, spandex fibers make for a comfortable and stretchy fit, polyester and rayon construction make the pants soft after the thighs, the antimicrobial finish repels bad scents
CONS: The colors tend to fade easily after several machine washes
SIZES: X Large – 3X Large
These smart and super comfortable cargo scrubs pants are appropriate for both the workplace and lounging around the house. In our books, this makes it one of the best options for those looking to get the most out of their money.
Made with proprietary PonteLux fabric, these pants are some of the softest we have ever tried on. If you want to maximize comfort while also wicking away moisture and allowing yourself to move freely in a plus-size friendly outfit, these pants may serve you well.
One of our favorite aspects of these pants is that they are anti-bacterial. Consequently, they rank among the best pants for keeping nasty odors under control. For those who want to come home after work smelling their best, we suggest checking out the premium-quality Jaanuu scrub pants.
---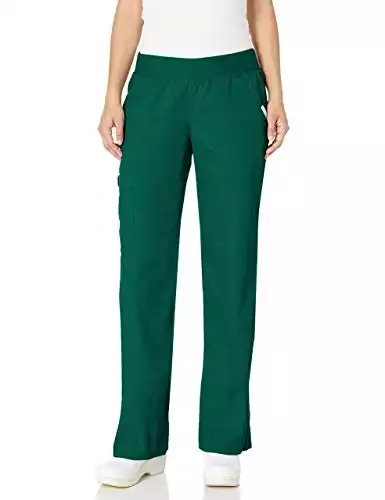 PROS: They fit exactly as described, not running too small or large, the mixed fabrics hold up after months of daily machine washing, 100% iron-free build makes for easy maintenance
CONS: Larger waists may be better suited for a drawstring band rather than elastic, the crotch area can tear after extended use, No rear pockets
SIZES: X Small – 5X Large
Featuring a flashy style at a competitive price point, these midrise pull-on scrub pants are comfortable and allow for plenty of space around the waist. Although at first we were thrown off by the tab snap closure on the cargo pockets, we found that these pants were optimal for those who need to store lots of items on their person without skipping a beat.
Made of two-thirds polyester and one-third cotton, these pants provide a unique combination of fabrics to maximize both comfort and durability. With an elastic, spandex-infused waistband, these pants make a great option for plus-sized healthcare professionals that are fed up with pudgy fits around the midsection.
Thankfully, these pants are fully machine washable which is a life-saver if you need to quickly sanitize your dirty scrubs before work. Best of all, the deep pockets on the sides and at the front of the leg make these pants a great choice if you need to carry a lot of equipment without worrying about anything falling out.
---
Buying Guide:

How to Choose the Best Plus Size Scrubs
There are many important factors that go into buying the perfect set of scrubs. After all, there are few purchases that affect a healthcare professional's day-to-day life more than their scrubs.
Going out and shopping for a durable, stylish, and well-fitting set of scrubs is hard enough as is, given the vast number of options on the market. However, it is even more difficult for plus-sized women.
For curvier, plus-sized healthcare professionals, many must turn to online shopping to find scrubs that fit them. Consequently, shopping for larger scrubs is even more difficult, and far riskier, than it would be in a brick and mortar store. That is why we put together this quick guide to help you make the right decision before you check out.
Take a look at our favorite gear recommendations:
How to Find the Right Fit
When shopping for scrubs, and especially plus-sized scrubs, you need to make sure that the fit is perfect for your body. Unfortunately, online shopping can get in the way of trying out an outfit, but with simple scrubs we recommend keeping all receipts and tags and trying them thoroughly before deciding if you want to keep them.
Ideally, your plus-sized scrubs will not pull or snag when you move. Instead, you want to ensure that you have a full range of mobility in your arms, legs, and torso. We all know how terrifying it can be to bend over in a too-tight pair of scrubs to find out that you are revealing your underwear or—even worse—about to tear a seam.
Your priority should always lie with the fit of the garment. When trying on the item, make sure that the shoulder yokes offer a full range of motion with your arms raised and held to the sides. If your shoulders are clear, try lifting your knee as high as it can go. If there are no snags, you found a great fit.
Know Your Measurements
Before completing your online purchase, you may want to consider taking your measurements and comparing them to the manufacturer's specifications. Typical measurements include:
Chest/Bust, by wrapping the tape around the fullest part of your chest and making sure to keep the tape parallel to the floor
Waist/Hips, by wrapping the tape around the narrowest part of your natural waistline and the widest part of your hips, respectively
Shoulder, by placing the tape at the base of your neck to the tip of your shoulder
Arm length, by running the tape from the tip of your shoulder to your wrist line (making sure your arm is relaxed and not too stiff)
Inseam, you can use a favorite pair of pants and use your tape to measure the length from the crotch seam to the bottom of the leg
Tight is Right
Many plus-sized shoppers are wary of purchasing clothing that is form-fitting. However, when shopping for plus-sized scrubs, you need to seek out a tight fit that may even feel a bit uncomfortable at first. During a 12-hour shift, comfort is something you should want to prioritize, but a tight fit is essential for keeping contaminants at bay.
In a sensitive work environment such as a hospital or health clinic, it is vital that you keep potential pathogens away from patients. Loose fitting clothes can inadvertently create contact between you and the patient, so even plus-sized scrubs need to be kept as tight-fitting as possible while still being comfortable and flattering.
What Are the Best Materials?
As with any garment of clothing, scrubs need to be made of fine, durable materials. Sadly, the higher quality materials tend to run up larger price tags. However, the payoff is well worth the additional price. Especially when it comes to plus-sized scrubs, spending even 10 percent more for elastane or other premium materials can make a massive difference.
The most durable fabric types are cotton, microfiber, and polyester. If longevity is your primary concern, we recommend shopping for scrubs made of these. But, for plus-sized shoppers looking to maximize comfort and sanitation, we think elastane should also be infused at the seams.
Alterations and Adjustments
Plus size shopping is never a walk in the park. Far too often, outlets are missing the size that we need or simply refuse to carry it. As frustrating as it may be to put up with this, there is a simple and cost-effective solution: get them hemmed or adjusted.
An experienced tailor can alter your scrubs so that they fit perfectly even if they do not feel right the first time you try them on. Those who shop for plus sizes often complain about pant legs being too long or blouses being too tight around the bust. Thankfully, incisions can be made that can easily transform your scrubs into a tailor-made piece just for you.
Should You Soften the Fabric?
Healthcare professionals constantly must wash their scrubs. When shopping for plus size scrubs, make sure that the manufacturer allows fabric softener to be used in the wash with the garment. This is because softness is vital for comfort and these garments tend to harden up after many washes. Adding fabric softener is important for maintaining comfort in the long-term.
For more great tips and suggestions to help you find the best plus size scrubs, we recommend checking out MzTrinaa's Plus Size Scrub Uniform Review on YouTube. In this video, she breaks down her experience finding comfort, great-fitting scrubs to fit her full-sized body.
Final Thoughts On the Best Scrubs for Plus Size Women
Although all the scrubs listed above each have their own unique charm that they bring to the table, the best overall roundup winner is the Grey's Anatomy 3 Pocket Mock-Wrap Scrubs. Providing a comfortable combination of tough polyester and rayon, these are the best plus size scrubs for those looking at stretching their money as far as it can go without breaking the bank.
By comparison, other brands like Cherokee and Jaanuu offer style and affordability where Grey's Anatomy provide comfort, durability, and utility. When it comes to working in a professional healthcare environment, the most important consideration is sanitation and mobility. With these in mind, the Grey's Anatomy mock-wrap is the clear victor.
Since the Grey's Anatomy scrubs are short-cut at the neck and the sleeves, they make for both a modest and sanitary outfit. This is because the fabrics hugs the curves of the body closely, which not only feels great but also prevents unnecessary contact with surfaces that may be contaminated. For this reason, Barco's Grey's Anatomy are the best plus size scrubs.
What do you think are the best plus size scrubs on the market right now? Let us know in the comments below!