With so many options to choose from, it can be hard to find the best scrubs for petite women on the market today.
If you find yourself reaching on your tiptoes or pulling your pants around your waist while on the job, you need to start looking for petite scrubs. In this article, our experts put together a list of our favorite scrubs for petite individuals.
Best Scrubs for Petite Women of 2023: Quick Look
Have a look at our favorite gear recommendations:
Buying Guide:

How to Choose the Best Scrubs for Petite Women
To find the best petite size scrubs, you need to find your precise size. Although this may sound like redundant advice, it deserves to be spelled out in full: you cannot find your true "petite" size without first finding out your measurements.
Finding Your Height and Measurements
A good place to start is by measuring your true barefoot height and your various bodily measurements. Typically, the "petite" classification describes women that stand 5'4" or under. However, it is important that you check from store to store because some outlets consider anything above 5'3" to be "regular" size.
Other important areas of the body to measure are the bust, natural waist, hips, and regular sleeve in inches. Usually, a petite bust will be 34 inches or less, a natural waist 26.5 or less, hips 36.5 or less, and petite sleeves are 30 inches or under. For more information about how to take these measurements, check out this handy sizing and measurement guide.
How Do You Find the Right Fit?
Once you have your measurements out of the way, it is time to start searching for a proper fit. Unfortunately, brick and mortar professional clothing retailers do not have much to offer in the petite clothing department. On the bright side, however, is that you get to shop at the touch of your fingertips by taking advantage of the wide selection available online.
Petite clothing is different from regular-sized clothing in several important ways. First, you will notice that the clothing is noticeably shorter than what you are used to. Petite skirts, pants, tops, and shirt sleeves are all considerably shorter than regular clothes, and many have higher holes for your arms and narrower shoulders. Keep these factors in mind while shopping.
How Do You Find the Right Petite Style?
If this is your first-time shopping for petite nursing scrubs, you may be surprised to find that there are a few common stylistic differences that set them apart from regular or plus size scrubs. For instance, most petite clothing designers will insist on monochromatic looks to make the wearer appear taller and more prominent.
Also, petite scrub designs are more likely to feature small buttons and thin belts to help with keeping the fabric in position. Of course, scrubs are not often worn for their fashion style, but these are important considerations to keep in mind if you want a proper-fitting set of petite scrubs.
What Should You Look for in Petite Nursing Scrubs?
Petite women standing under 5'4" should be aware that their scrubs will likely have higher hemlines and shorter inseams. When shopping for petite scrubs, we suggest always seeking out these specialized hemlines and inseams because they look more flattering on smaller proportions, are more comfortable to wear, and help prevent unsanitary bagginess.
If you are taller than 5'4" but have a short waist, it is still worth checking out a petite top. This is because they may still cover your midsection fully while offering you a more appropriate amount of space around the arm hole. For those with longer legs, you may be more interested in purchasing regular pants and simply getting the inseams redone.
Can You Alter Petite Scrubs?
Petite and plus size scrubs are some of the most commonly altered garments of clothing. This is because petite sets of scrubs are sized differently (i.e., a size four petite is not equivalent in measurements to a size four regular), which can catch shoppers off guard. As such, it is perfectly normal to go to a tailor to alter your petite scrubs.
Typically, inseam hems and pinned tops can transform a regular size small into a small petite. If you are having a hard time finding the right size pants for your long legs or short arms—whatever the case may be—then you can benefit from finding a quality tailor.
Finding the Perfect Fit for Petite Nurses
Face it, you cannot love what you do for a living unless you feel comfortable on the job. By finding the perfect petite fit in your scrubs, you can be happier and more energetic during your shift. Thankfully, finding the ideal fit is as easy as checking a few critical measurement points.
First, don't worry if you find the sleeves to be a little too short or the center back length runs up slightly. The garments are designed to fit this way, and high-waisted pants can help prevent issues with lower back exposure. The main thing is that they fit slim and snug through the hips and butt and fit close to the thigh without hindering a full range of motion.
The Best Scrubs for Petite Women of 2023 Reviews
Now that you know the basics when it comes to finding the best petite scrubs out there, you can start shopping. From cotton and rayon to polyester and elastane, we break down the various scrub fabrics and varieties below to help you make the most informed choice possible.
Best Petite Scrub Pants
FIGS Livingston Scrub Pants
PROS: Fully adjustable drawstring and elastane waistband, extremely comfortable and relaxed fit, features stretchy and moisture-wicking FIONTechnology fabrics
CONS: Only two utility pockets, pricier than most other models
SIZES: XX Small – 2X Large
Among the higher-end petite scrub pants are the FIGS Livingston series, which combine style, utility, and breathability to create a near-perfect workwear experience. These petite pants feature a drawstring waist inside an elastane band, which makes them both stretchy and adjustable for various body sizes.
Although they are pricier than most other leading brands, these antimicrobial scrubs might be your best option if you need soft, comfortable petite bands that won't fall or tear around the seams. Best of all, they feature luxurious cotton and polyester fabrics which make them both extremely comfortable and lightweight for all-day usage.
Those who are looking to get the most comfort out of their scrubs should consider investing in a set of durable and lightweight FIGS Livingston scrub pants.
---
Jaanuu Moto Pant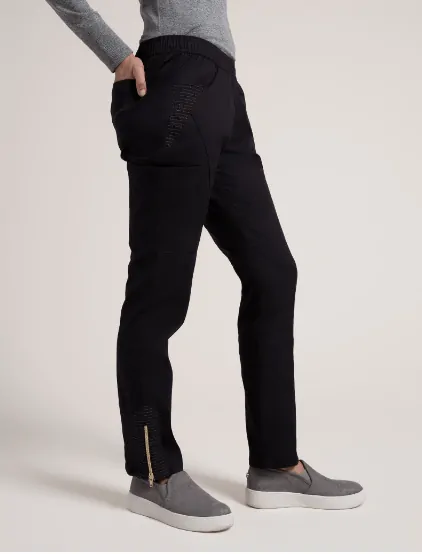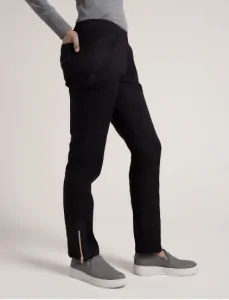 PROS: Features fade and wrinkle-resistant technology, wicks away moisture to prevent abrasive rubbing on skin, ForminaFlex fabric is stretchy around the waist and joints, fits snug like a pair of ankle-length jeans
CONS: More expensive than other leading brands
SIZES: X Small Petite – X Large Petite
Like the rest of the Jaanuu lineup, the Jaanuu Moto pant has done the impossible: seamlessly blend professional workwear with comfortable street fashion. For those who need petite scrubs while remaining stylish and fashionable, we think the Jaanuu Moto Pant is worth looking into.
These pants are available in 13 colors and are available in sizes as low as petite XS, making it accessible for all body types. These petite pants match well with the Julie Collection top, also in petite, from Jaanuu. However, the only downside to pairing this scrub set is that they will likely cost you more than your typical pair of scrubs.
For those who won't mind spending a little bit extra on premium quality scrubs, the Jaanuu petite series is a worthy option. They will fit similar to your favorite pair of ankle-length jeans, but with functional zippers and two-way stretch fabric to ensure that tears and ride-ups are kept to a minimum.
Perhaps our favorite aspect of this pant is its moisture wicking features. When working in a healthcare setting, day-to-day life can get a bit messy. Thankfully, these pants are designed to resist moisture and wick away excess fluids. Not only is this more sanitary, but also more comfortable.
For petite sizes, moisture wicking is even more appreciated because you won't have to worry about wet fabrics rubbing around your waist or thigh. In our judgment, this makes these scrubs a great choice for fashion-forward petite healthcare professionals.
---
Carhartt Cross-Flex Cargo Scrub Pants
PROS: Deep utility pockets and pen holders, high spandex concentration for easy mobility, 94% polyester for excellent breathability, drawstring waist is suitable for narrow or large-waisted bodies, large range of sizes
CONS: The fabric colors fade after multiple washes, the fabric is not as soft as cotton varieties
SIZES: X Small Petite – 3X Large Petite
Available in 28 vibrant colors, the Carhartt Cross-Flex Cargo Scrub Pants rank among the best petite scrubs for their versatility and comfort. When it comes to shopping for petite scrub pants, there are countless little hang-ups that prevent a good pair of pants from being perfect. However, the Carhartt Cargo pants somehow manage to dial in the formula.
Featuring a drawstring waistband, these pants are a worthy choice for those who are narrow around the waist but have longer legs. Thanks to their customizable waist, these pants can suit several body types, including those with round waists. Plus, they are made of six percent spandex which makes them extremely stretchy around common problem areas.
If you are sick and tired of your scrub pants tearing around the inseams, then these pants may be worth checking out. Plus, numerous pen holders and oversized front patch pockets make these a great choice for overall utility. To set them apart from their competition, they are also machine washable and are built with a patented fast-dry technology for easy maintenance.
---
Best Petite Scrub Tops
WonderWink Patience Curved Notch Scrub Top
PROS: Polyester and cotton blend make the top "breathable", available in 27 colors and 10 sizes, fits snug to the body for better sanitation control
CONS: It does not have as many pockets as other leading brands, the short back makes it difficult to bend over without an undershirt
SIZES: XX Small Petite – Medium Petite
These comfortable and stylish scrub tops are some of the best we have ever tried on. For these reasons, they rank among our favorite petite scrubs. These scrubs fit snugger than your typical petite-style scrubs and feature a banded front yoke and reinforced seams to make them extra durable. These make the top superior regarding both longevity and fit.
A triple-blend of cotton (52 percent), polyester (45 percent), and spandex (3 percent), this garment provides a good balance of durability, comfort, and stretchiness. However, we would have liked to have seen a bit more spandex material added, because that tends to hug the waist a little too hard if you are a size too big.
Although the front patch pockets are not as deep as we would like to see from premium-quality scrubs, we love the WonderWink triple pocket on the right-hand side. With this pocket, you can store multiple items and compartmentalize them easily without having to worry about losing items or having them fall out.
For some women with longer torsos, it may be the case that these scrubs fail to cover your entire low back. That is why it is usually recommended that you wear a tank top underneath these scrubs, as well as high-waisted pants if need be. Aside from this small consideration, we think that these are some of the best petite scrubs at their price point.
---
Barco's Grey's Anatomy 41423 Solid Scrub V-Neck Top
PROS: Made of breathable and lightweight sportswear material, side-seams make the top more resistant to tearing, deep and convenient dual-pockets on the front
CONS: The "Active" tag on the back cannot be removed, runs smaller than most other fits
SIZES: XX Small – 5X Large
For petite women in healthcare professions, there are few scrubs more reliable than Barco's brand of Grey's Anatomy scrub tops. These scrubs, which rank among the best petite scrubs in the industry, are made with three-quarters polyester and a quarter rayon for a breathable, lightweight build that is both affordable and comfortable.
Boasting side panel seaming, you should not have to worry about microtears or other inconveniences. Instead, you can benefit from a full, seamless range of motion without snags or pulls. In our books, this makes these scrubs a great choice for those who find that petite clothing tends to hinder their mobility.
From the moment we first held this top in our hands, we could tell that it was inspired by athletic designer sportswear. From the thin polyester build to the stretchy waistband and arm sleeves, this top has all the makings of fine-quality sportswear for a professional setting.
Our biggest qualm with this top is the bulky "active" tag that is located on the rear of the garment directly between the shoulder blades. In our experience, colleagues have confused this branding for a sticker. However, aside from this small grievance we think that this petite scrub sits safely at the top of our list of favorite petite scrubs.
---
Conclusion
After trying on countless sets of scrubs, our overall roundup winner is the FIGS Livingston Basic scrub pant. Thanks to their superior antimicrobial, moisture-wicking fabrics, they can combine comfort and sanitation in one premium-feeling package.
Best of all, these pants are seamless around the crotch and buttocks, which means you won't have to worry about embarrassing tears. Compared to polyester-based brands such as the Barco's Grey's Anatomy, these sporty-looking petite scrubs allow for nimble mobility and are lightweight and breathable to maximize comfort.
What do you think are the best scrubs for petite women on the market right now? Let us know in the comments below!