Are you looking for the perfect pair of women's scrubs?
Then you're in luck, because today we are talking about the best scrubs for women that will suit all of your needs.
Whether you're on the hunt for scrubs that are cost-effective or a set that is stylish, and everything in between, we aim to help narrow down your search until you find the best scrubs.
Using input from individuals in various healthcare fields, insider information from industry leading scrub brands, and hundreds of compiled reviews from actual wearers, our buying guide breaks down the features we find most important to scrutinize prior to making your purchase.
In a hurry to find the best medical scrubs for women? Here are the top-rated women's scrubs that we have researched and genuinely recommend.
Best Scrubs for Women of 2023: Quick Look
Ours Reviews of the Best Scrubs for Women of 2023
Women looking for the best scrubs will find no shortage of great options. From full scrub uniforms to individual pieces, there are plenty of excellent choices available to give an amazing and flattering fit. We've rounded up our favorite brands and styles so you can get the perfect look for your needs.
Best Scrub Tops for Women
Best Scrub Top: Cherokee Infinity Women Scrubs Top Round Neck 2624A
Our Pick
Cherokee scrubs, known to be one of the best scrub brands on the market, have been around for a long time, and the ready-to-wear mantra translates well to the medical uniforms they make.
Looking more like athletic wear than work clothes, this comfy scrub top is a polyester/spandex blend, includes a rib-knit back panel that allows for excellent stretch and movement without losing the intended shape, and is made to be wrinkle-free.
It is a great purchase for most since the combination of front and back princess seams with the rounded neckline make for a cut that many body types will find flattering.
Our favorite thing about the Cherokee Infinity scrub top is the function it provides. It includes side vents for easy movement and comfortable temperature. The Certainty fabric by Cherokee provides antimicrobial protection, and the three pockets (two patch and one interior) give enough storage room without looking cluttered.
We did find that the size chart posted directly on Cherokee's website varied slightly from size charts offered by other online retailers, so be sure to keep this in mind.
PROS:
Antimicrobial fabric
Bungee loop on the shoulder
Available in 22 colors
Two patch pockets and one interior pocket
CONS:
Sizes run large
Recommended low-drying heat may take longer to dry
SIZES: XX Small – 5X Large
---
Best Premium Scrub Top: Figs Casma Three Pocket Scrub Top
Best Premium Top
At first glance, this may seem like a very basic scrub top. The lines are clean, there are few details to draw the eye, and the top is offered in only four colors (six, if you count the seasonally available options) – but we think this top is great because it is so simple.
The high quality and durable fabric combined with the clean design make for a very functional, flattering, and professional look in the office or when making rounds.
Figs offer scrubs that are guaranteed to be antimicrobial, wrinkle-free, odor-free, and liquid repelling for the life of the garment, and they are easily washed and worn with simple cold water and tumble dry instructions.
The v-neck on this top makes for a modern appearance, and the darted back and side-slit hem gives a fit that will look tailored and flattering on many body types.
Some may prefer more pocket options, but we feel the three offered (two front patches and one hidden interior) are deeper than average and still allow ample storage for go-to items.
The pricing can be steeper, but we find the brand is worth the investment for durability and overall appearance if you are looking for items that will last a long time.
PROS:
V-neck, back darts, and side slit hem gives flattering and tailored look
Durable and quality fabric offers excellent stretch and movement without losing shape
Wrinkle-free fabric with easy care instructions
Deep patch pockets
CONS:
Limited color selection
Higher price range
SIZES: XX Small – 2X Large
---
Best Budget Top: Carhartt Cross-Flex Women's Media Scrub Top
Best Budget Top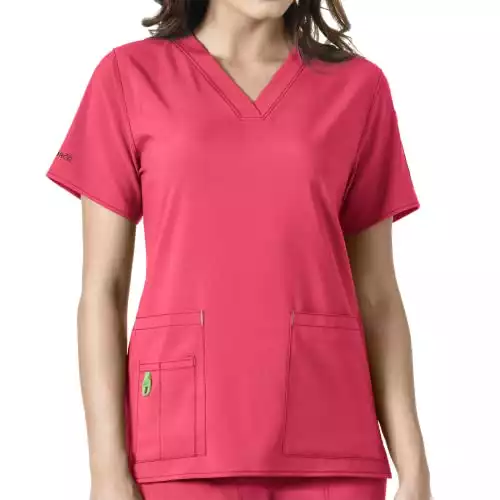 When people hear "Carhartt brand clothes" they may know it provides quality, but they may think of overalls or heavy men's outerwear.
The Carhartt women's scrubs they manufacture, however, have become a significant contender in the healthcare industry, and many consider them the best medical scrubs.
Like our top pick, this scrub top is also a polyester/spandex blend but includes a little more spandex and Carhartt's Rugged Flex Technology to keep you moving comfortably during the day.
The fabric is noticeably different to the touch than other scrubs and is made to keep you cool, wick moisture away from your skin, and dry quickly. Their patented Stain-Breaker Technology keeps your uniform looking new for longer.
We really like that the Carhartt Cross-Flex scrubs provide plenty of storage options and unique features that we really like.
These include two deep patch pockets for storing larger items, a pocket with separately sewn sections for instruments such as a badge loop, an interior pocket that fits most smartphones and has an earbud holder at the neckline to keep wires out of the way, and a double arm pocket suitable for pens and flashlights.
PROS:
Fabric is cool to the touch and works as-advertised (cool temperature and quick drying)
Pockets provide ample storage and unique function
Stain-Breaker Tech to keep top looking new
Moderate price point
CONS:
Arm pocket is ideal for right handed people
Fabric is prone to snagging (watch out for velcro)
Only available in 7 colors
Size selection is limited
SIZES: X Small – 3X Large
---
Barco Grey's Anatomy Signature Women's 2121 Two Pocket Notch Yoke Neck Scrub Top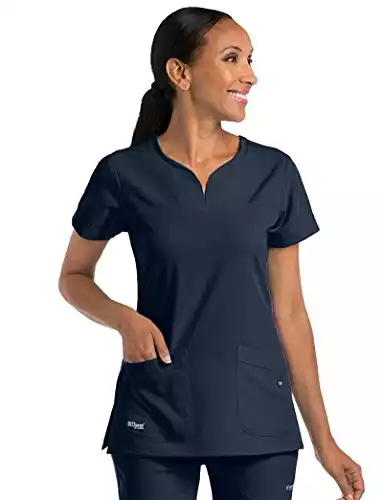 This may look seem like a simple top, but the subtle details in Barco scrubs make this a fashionably understated choice for medical professionals in the office or making rounds.
The silhouette is a classic cut that many wearers will find to be the most flattering scrubs without being too revealing or clingy – a likely reason the manufacturer offers this style in sizes XXS – 5XL.
The front and back yokes help the top hang nicely, the notched neckline gives it a unique look, and the 24 colors it is offered in gives you plenty of options to express your personal style at work.
We especially like the fabric blend. The 24% rayon, combined with polyester and spandex, make these some of the softest scrubs, and stretchy enough to keep you moving freely all day.
You will want to take care to follow the recommended care instructions, though, as rayon has a tendency to pill if not properly cared for.
While the two patch pockets offer minimal storage, their placement and angled opening make them convenient for daily use.
As a bonus, the pockets include a fitted pen slot on the right and a snap tab detail on the left. Overall, we find Barco Grey's Anatomy Scrubs to offer one of the better options for professional-looking scrub tops on the market.
PROS:
Fabric is soft and offers four-way stretch
Flattering cut and minimalistic details
Many sizes available
CONS:
Two pockets offer minimal storage
Pen holder ideal for right-handed people
Will require more gentle washing cycle
You may need to size down to get the fit you expect
SIZES: XX Small – 5X Large
---
Best Scrub Pants for Women
Best Scrub Pant: Koi Lite Peace 6 Pocket Drawstring Pants
Our Pick
There is a lot to like about these straight-legged, modern ultra-light Koi scrub pants. The polyester/spandex blend fabric offers breathability and stretches along with moisture-wicking technology, making them easy and comfortable to wear all shift long. These pants also do not require ironing.
The Koi Peace Pants offer a total of six pockets – three on the front (one with a zipper), two on the back, and one on the left pant leg with a zipper that provides much needed function to make your workday go more smoothly.
The pants are low-rise, so they offer slightly less coverage than mid-rise or high-waisted cuts, but the all-around elastic waistband with the drawstrings allows for a customizable fit that many will find favorable.
In fact, we consider these Koi scrubs to be the best option for those needing tall scrubs because of the range of sizing offered and the ability to customize the wear.
PROS:
Available in 33 colors
Plenty of storage
Moisture wicking and performance stretch fabric
Available in regular, petite, and tall lengths
CONS:
Pocket on left leg is ideal for left-handed people
SIZES: XX Small Petite – 6X Large
---
Best Premium Pant: Jaanuu Women's 10-Pocket Scrub Jogger
Best Premium Pant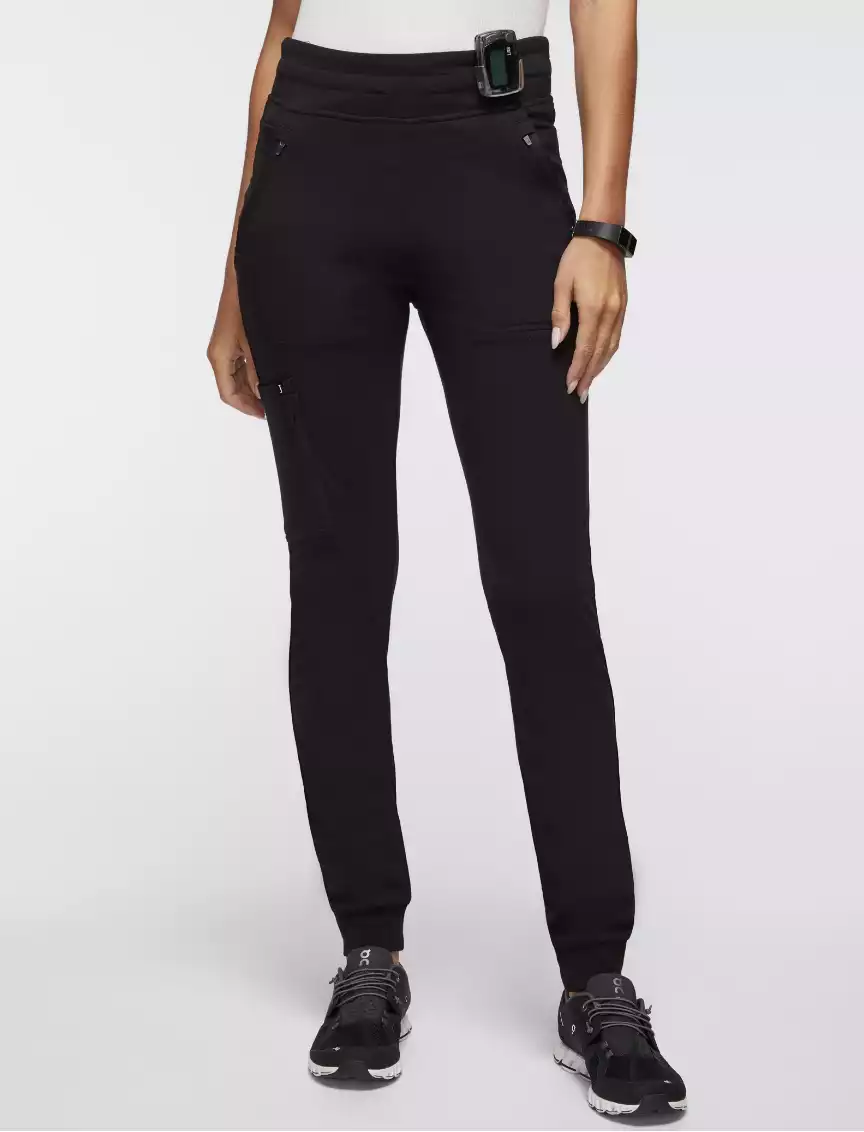 It can be hard to part with your hard-earned cash, but we feel like Jaanuu brand scrubs are worth the investment.
Made using a hearty rayon/nylon/spandex blend, these scrub pants will move and feel more like high-end athletic wear than other scrubs on the market while keeping their intended shape throughout your shift.
The fabric is soft to the touch and features the brand's SPINryx – it's got maximum stretch for easy movement, wicks moisture, is odor free, and inhibits 99.9% of harmful microbe growth.
We especially like the smooth waistband and slim design of the cargo pockets offered on these Jaanuu scrub pants because they make for a very tailored and flattering look that we don't think is matched by other brands.
The pants come in eight colors, and are offered in sizes XXS – 3X in standard, tall, and petite. While these pants may not be cut in as many sizes as other styles, they do offer a very stylish and functional option for many.
Jannuu carries a 5-pocket jogger that is comparable to these as well.
PROS:
10 slim cargo pockets offer more than average storage
Available in 8 colors and seasonal colors offered
Wear more like high-end athletic wear than a work uniform
Fabric is durable and can be washed and worn with minimal effort
CONS:
Some may find seaming at the knee uncomfortable
SIZES: XX Small – 3X Large
---
Best Budget Pant: WonderWink Women's Four-Stretch Sporty Cargo Scrub Pant
Best Budget Pant
WonderWink scrubs are considered top-rated, and it's not hard to see why. The Wonderwink Stretch scrubs are 100% polyester scrubs and are manufactured to be as low-maintenance as it gets.
These hold up well to multiple washings, are unlikely to shrink, and come out of the dryer wrinkle-free.
These stylish scrubs are offered in 31 colors, and due to WonderWink's special fabric, all are kept vibrant even after frequent cleanings.
Pet owners, animal lovers, and those with an excess of hair will especially appreciate that animal fur and human hair won't stick to the Four Stretch material – a definite benefit for keeping your uniform looking professional with minimal effort.
These pants have plenty of storage with two front pockets, a back patch pocket, and a cargo pocket on the right pant leg with a few hidden pockets inside and useful utility loops on the outside.
Some may find the styling to be considered "junior," since the scrubs are bootcut and include contrast stitching, and the brand's signature yellow bungee cord drawstring, but for people who enjoy those details, these pants will be a fashionable choice that fits many body types well.
PROS:
Animal fur and human hair won't stick to the fabric
Available in 31 colors
Low-maintenance care and wrinkle-free out of the dryer
Fabric wicks moisture and dries quickly
Available in petite and tall sizes
CONS:
Styling could be considered "junior"
Cargo pockets are ideal for right handed people
Material is thin and may not be preferred by those who run cold during the day
SIZES: X Small – X Large
---
Cherokee Women's Infinity Low-Rise Straight Leg Drawstring Pant
Like the Infinity by Cherokee scrub top, there is a lot to like about these pants. The straight-leg cut will be a good fit for most body types since it is meant to make a smooth, flattering line from the hip to the floor.
To give them a little customization, the pant legs include bungee cords and adjustable toggles so the wearer can adjust where they want the hems to lay.
Some may find issues with the low-rise nature of the pants, but the elastic-knit waistband and adjustable drawstring can help hold the pants comfortably in place, and many will find the more athletic-looking design preferable to average scrubs.
The Certainty technology in the fabric means the pants are antimicrobial, keep a wrinkle-free look all day long, and are quick drying.
While some may find they could use more storage, we feel these scrub pants offer plenty of storage without looking cluttered or like typical cargo pants.
With two slash-open pockets in the front, a zip-closure cargo pocket on the right leg, a patch pocket in the back, and a bungee instrument loop on the left leg, you will likely have no problem finding space for what you need to carry.
The pocket construction and various closures are bonuses since you will have to worry less about things falling out.
PROS:
Available in 33 colorslattering
Fit for many body types
Polyester/spandex poplin blend offers excellent stretch without losing intended shape
Antimicrobial fabric is wrinkle free and quick drying
Available in petite and tall sizes
CONS:
May require more gentle washing to maintain integrity of design and shape
Fewer pockets than some pants offer
SIZES: XX Small – 5X Large
---
Best Scrub Sets for Women
Best Scrub Set: Just Love Women's Six Pocket Medical Scrubs Set (V-Neck with Cargo Pant)
Our Pick

The Just Love Six Pocket scrub set is full of design, comfort, and convenience.
They are made of a cotton/polyester blend that is comfortable and stretchy without being too thin and will hold up well to daily use and repeated wash and wear cycles.
If you prefer slightly more fitted scrubs, this may not be the set for you, but those looking for a more basic and loose-fitting cut will likely be pleased.
The top includes a V-neck with three very roomy pockets, while the pants offer 3 pockets, an adjustable drawstring, and an elastic waistband. While both the top and bottom feature ventilation slits to keep you cool.
PROS:
Available in 23 colors
Ample pockets are offered on top and pants
CONS:
Sizing in the set is not customizable
SIZES: X Small – 3X Large
---
Best Premium Set: Jaanuu Women's Soft Layers Scrub Set
Best Premium Set
If budget isn't a major consideration in your search, then we highly recommend the Jaanuu Women's Soft Layers Scrub Set. It's the perfect scrub set for medical professionals who need superior comfort and flexibility in their workwear.
The scrub top features a flattering V-neck and four pockets for easy access to essential items, while the scrub jogger allows for full range of motion with its mid-rise waistline and ten pockets.
To top it off, the scrub set is completed with a cropped track jacket that has two zip hand pockets and two inner drop-in pockets to keep you comfortable throughout your shift.
The scrub set is crafted from Jaanuu's signature SPINryx™ fabric, which allows maximum stretch to keep you moving comfortably all day long. It also features moisture control technology and Silvadur™ antimicrobial-finished technology to provide extra protection against bacteria.
The fabric blend of 65% Rayon, 30% Nylon, 5% Spandex makes it soft yet durable to last use after use. Plus, it can be machine washed and dried without fear of fading or shrinking.
PROS:
Top, pant, and jacket sizing is customizable
CONS:
Higher price point
One color option
SIZES: XX Small – 3X Large
---
Best Budget Set: Dagacci Medical Uniform Women's Scrubs Set Stretch Ultra Soft Contrast Pocket
Best Budget Set
Getting a quality women's scrub top and pant for less than $30 is a good deal in our book, and that's exactly what you get with Dagacci, which we think offers the best budget scrub set. While some may not consider this to be the most stylish scrubs set, it does offer some nice details that many will find fit their needs.
The top is cut with a basic v-neck, and front and back princess seams, and includes an elastic waistband for a fitted "missy" look.
Similarly, the pants are a basic straight leg with an elastic waistband and adjustable drawstring.
The rayon/polyester blend fabric offers enough stretch to keep you moving freely during the day, but you will want to take note of the sizing chart and use it accordingly since the set runs a little large.
There are plenty of pockets between the top and the pant, with the top offering two patch pockets each with inner multi-section accessory pockets, and the pants including a total of three front pockets (two on the right, one on the left) and three cargo pockets (two on the right, one on the left).
Offered in 16 colors at an affordable price, these Dagacci scrubs are a good choice for those needing to add pieces to their wardrobe.
PROS:
Clean lines and simple design for an uncluttered look
Fabric is comfortable and soft to the touch
CONS:
Fabric may require extra gentle care to keep it looking well-maintained
Sizing can run large
Limited sizes
SIZES: XX Small – XX Large
---
Buying Guide: What to Look for When Buying Women's Scrubs
Women's scrubs are an important part of any female medical professional's wardrobe. They need to be comfortable, functional and stylish so that you can look your best while working in a demanding environment.
When shopping for the best scrubs, there are several factors to consider including fit and style, fabric and materials, functionality, and cost. Read on for our comprehensive guide on what to look for when buying women's scrubs!
Take a look at our favorite gear recommendations:
Find the Right Fit and Style
Fit and style are paramount when it comes to scrubs. The best scrubs allow you to move freely without feeling restricted. The ultimate goal is to feel comfortable.
Fabric and Materials Matter
When selecting scrubs, you'll want to make sure the fabric and materials are of good quality. Look for scrubs with fabric that is breathable, comfortable, moisture wicking, liquid-repellent, antimicrobial, and easy to maintain.
Common types of scrub materials include:
Cotton
Polyester
Spandex
Nylon
Functionality Is Key
Look for scrubs with plenty of extra pockets that allow you to store your daily used items easily like your phone, stethoscope, pager, pens, and ID badge. Additionally, scrubs with drawstrings or elasticized waists make for a better fit and provide extra comfort.
Don't Forget the Cost
Finally, scrubs are an investment. Make sure to have a budget in mind before you shop so that you don't overspend. A good tip is to compare scrubs from different stores and websites to ensure you are getting the best deal.
Also, consider the cost-per-wear. When it comes to scrubs, shopping for quality can be a great investment. Cheaper fabrics may have to be replaced more often than higher-quality materials.
For example, if you buy an inexpensive top, you may only get six months of wear out of it, whereas a more premium brand with better material could last twice as long or more. Investing in higher quality fabric means fewer replacement costs and more value overall.
Final Thoughts On the Best Women's Scrubs
Healthcare professionals know that the right scrubs are essential to making their job easier. After all, they spend long shifts on their feet, and they are constantly on the move. Investing in comfortable, well-fitting scrubs can help give them one less thing to worry about and make their days smoother.
We love that the Cherokee Infinity Women Scrubs Top Round Neck 2624A and Koi Lite Peace 6 Pocket Drawstring Pants each offer good mixes of the essentials when it comes to the best scrubs for women.
They each offer plenty of color and sizing options that many women will find flattering, they each have impressive function to get you through your day, and they have each proven to hold up to the demands of daily use with durable fabric and quality craftsmanship.