Last Updated on
If you are are pursuing your HHA certification and looking to find free HHA training in the Bronx, you have come to the right place.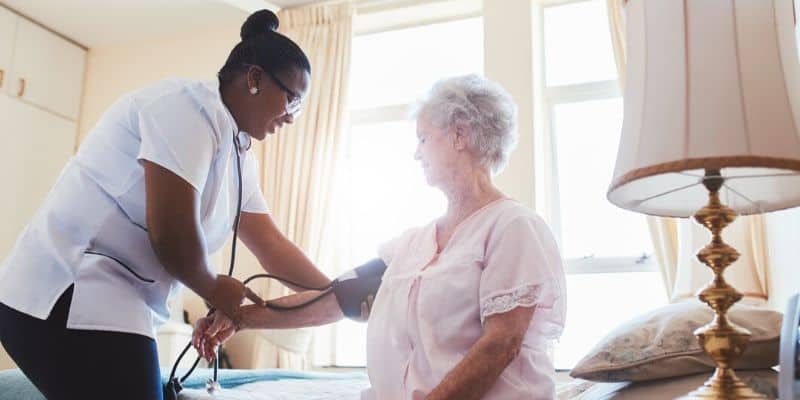 Home health aide agencies in the New York are either approved by the New York Department of Health or the New York Department of Education. Agencies that are approved by the New York Department of Health cannot charge tuition, meaning that you get your HHA classes and training for free.
Some agencies manage to distinguish themselves from the pack, and with that in mind, we have compiled a list of the best six agencies offering free home health aide training in the Bronx.
Top 6 Agencies Offering Free HHA Training in the Bronx in 2020: Quick Look
The Top Agencies Where You Can Get Free HHA Training in the Bronx
1. Cooperative Home Care Associates
Founded in 1985 by 12 home health aides, CHCA is now a nationally recognized home care agency with more than 2,000 employees.
By providing free training to more than 600 women every year, the company not only helps drive employment in the Bronx, they also pride themselves on having employees who receive above average pay, work full time hours, and have multiple opportunities for advancement in their field.
The four-week course is offered free of charge Monday – Friday from 9:00am to 5:00pm, and is provided in either English or Spanish. Those who complete their training through CHCA will receive certifications as both a certified home health aide and personal care assistant, along with guaranteed employment!
Everything you need to know about this in-demand training program is provided at their open house information sessions. To reserve your seat at the next available session, simply call the number below.
Contact Information
Website: chcany.com
Address: 400 East Fordham Road 13th Floor, Bronx, NY 10458
Ph: (718) 993-7104
Email: info@chcany.org
2. Partners in Care
Partners in Care has an extensive history in New York, and plays an important role as an affiliate of the Visiting Nurse Service of New York (VNSNY), one of the oldest non-profit home health care agencies in the country!
Nearly 125 years after VNSNY was founded, Partners in Care continues to train and hire some of the best home health aides in the industry.
With numerous opportunities for continuing education and career growth for its employees, it's easy to see why Partners in Care has become one of the most recognizable names in the field.
If you do join the team at Partners in Care, you'll receive:
A generous starting salary
Benefits
Sign-on bonuses for some locations and for different language skills
Beginning their free HHA training in the Bronx is an easy process. By calling the number below or emailing Roxanne Watson at Roxanne.Watson@vnsny.org you can inquire about HHA classes currently being offered in your area!
Contact Information
Website: vnsny.org
Address: 20 South Broadway Suite 401, Yonkers, NY 10701
Ph: (212) 609-7750
Email: Roxanne.Watson@vnsny.org
3. Best Choice Home Health Care
Best Choice Home Health Care is a member of CenterLight Health System, which provides home health aides, personal care aides and nursing services to elderly, sick or disabled individuals in all five boroughs of New York City since 1996.
Their 4 week HHA training program is rigorous and in high demand. The full-time course runs Monday – Friday, 9:00 a.m. to 5:00 p.m.
Qualifications training for training course:
Purchase $50 uniform
You can commit to four weeks of training with absolutely NO absences.
You are able to work on a flexible schedule upon successful completion of the HHA training course.
You are flexible to work days, evenings, and every other weekend at a moment's notice.
You can successfully pass a pre-employment physical, toxicology screening, and criminal background check.
You demonstrate Best Choice Home Health Care's core values in your daily life: Integrity, Caring, Diversity and Creativity.
They also ensure applicants are able to commit to at least a 30 hour work week with possible evening, weekend, and holiday shifts after training is completed.
To begin the application process, they ask potential students to complete the online inquiry form to receive an invitation to attend an informational session.
Contact Information
Website: bestchoiceny.org
Address: 2275 Olinville Ave Lower Level, Bronx, NY 10467
Ph: (718) 319-2525
Email: info@centerlight.org
4. Personal Touch Home Care
Founded in 1974, Personal Touch Home Care Agency has become a national company with more than 50 locations in 11 states, and operate daily with approximately 3,000 nurses and 12,000 paraprofessionals (like home health aides and personal care aides).
To apply for HHA training at the Bronx location you must be able to provide:
A valid social security card
Photo ID
Two reference letters written within the last two months (they note that while professional references are preferred, personal references are acceptable)
Proof of address
Proof of physical and lab work performed within the last year
Pro Tip: They also require that applicants come dressed in business casual attire when applying for training.
Contact Information
Website: pthomecare.com
Address: 509 Willis Ave Floor 5, Bronx, NY 10455
Ph: (718) 292-7847
Email: customercare@pthomecare.com
5. The Jewish Home
The New Jewish Home is proud to be as unique as the New Yorkers they serve. During their nearly 170 year history, they have repeatedly lead the home-care industry. They were the first facility of their kind to:
Have a full time professional social worker on staff
Have a full time, in-house doctor
Have a teaching system meant to train home-care professionals
And those firsts have led to impressive results. They currently serve more than 13,000 patients every year, and successfully send 84% of their rehab clients home without needing any additional trips to the hospital.
If you choose to apply to join their staff, you would be one of more than 3,000 staff members, and accompany volunteers who contribute more than 115,000 hours each year.
Training programs with the company are in high demand! For questions regarding training opportunities, call the recruitment hotline at (212) 273-2525 or email using the contact information listed below.
Applications are accepted in person Monday through Friday, 9am to 3pm. When you arrive, you should be prepared to present:
Two forms of valid ID (like a drivers license and a social security card)
Two references
Proof of flu vaccination (the company notes the vaccine is provided free of charge to applicants who are hired)
Benefits include:
Compassionate, supportive, and nurturing work environment
Union membership.
Competitive hourly rate.
Career advancement opportunities.
Medical benefits.
Paid time off, holiday, jury duty, and bereavement benefits.
401k retirement plan.
Contact Information
Website: jewishhome.org
Address: 1200 Waters Place, North Lobby, NY 10461
Ph: (212) 367-1311
Email: hapijobs@jewishhome.org
6. Bestcare, Inc
With nine offices in the NY metropolitan area, Bestcare has been in business since 1981, and approved by NYDOH since 1986 when licensure regulations began.
The three-week training program they offer is in high demand. To be accepted to the program, you are required to successfully complete an entrance exam, application, and commit to the rigorous training schedule. Once your training is complete and hiring standards are met, they offer job placement.
Benefits include:
Medical Insurance
Competitive pay
Holidays
Weekly payroll
Direct deposit
Vacation and sick days
Contact Information
Website: bestcare.com
Address: 4119 White Plains Road, Bronx, NY 10466
Ph: (718) 324-1400
Email: info@bestcare.com
Wrapping Up
As you can see, there are many excellent agencies that are offering free HHA training in the Bronx. Hopefully this has made your journey to become home health aide a little easier. Good luck with your new career!