Last Updated on
Have you ever wondered, "Can I get my HHA classes for free, and where?"
Because let's be honest, the idea of receiving the training needed to work in the healthcare field can be intimidating enough, let alone considering the financial resources it may take to complete!
If you are a compassionate person, looking for the opportunity to make the lives of those around you better and more fulfilling? If so, you may know the home health aide field is right for you!
But jumping into a new career isn't always simple and we believe nothing should hold you back from your dream career!
So in this article we will show you exactly how you can get your HHA classes for free. Plus, we've compiled a list of the five best ways to find free home health aide training, and you'll learn about some potential requirements and prerequisites needed to begin training.
Take a look below to get started!

Career Guide:

How to Get HHA Classes for Free Near You
To make life easier for you, we have put together a list of the 5 best ways to find home health aide classes for free.
Our goal with this guide is to help you start your new career as quickly as possible with no money down.
Let's get started!
1. Home Health Aide Agencies
Every day, more home health aides are needed to meet the demands of a continually increasing aging population, and with more than 12,000 individual home care agencies located throughout the country, it's obvious the need for skilled healthcare workers is high.
In an effort to meet this need, many home care agencies throughout the country will offer free HHA classes to potential employees.
Agencies will often hold informational meetings to those interested in HHA certification training to review eligibility requirements and job offer specifics.
Larger companies will offer training more often than those that are smaller, and most programs will take between two and four weeks to complete, depending on the schedule.
It is also not uncommon for home care agencies to expect students to adhere to strict attendance policies. With many potential students interested in free HHA training, agencies will use the 100% attendance requirement to help ensure that students can get through their training quickly and efficiently, while also letting your future employers see that you will be a reliable employee.
Research home care agencies in your area, and contact the ones you are interested in directly to inquire about their free training programs.
Keep in mind that many will provide information on their certified home health aide training online, often complete with inquiry forms and requests to attend informational sessions you can submit electronically.
When speaking with an HR contact or home health aide recruiter via email, on the phone, or in person, be sure to remember:
To speak clearly and directly. Let them know you are interested in FREE home health aide training provided by their company.
To ask valid questions and for clarification, if needed. Confirm you are eligible and meet their entrance requirements.
This could be considered your first "on-the-job" contact. Home health care agencies offer free clinical training to potential employees, and you want to show them why you're the one for the job!
If you are looking for quick and sufficient HHA certification training with likely employment guaranteed upon completion, a home health agency may be a good option for you!
2. Community Resources
When you're looking to receive your home health aide classes for free, community resources are an excellent place to start!
Those working for local government offices, workforce training centers, and nonprofit agencies will often have the best understanding of community needs as they relate to health care training and potential trainees. They can be your go-to resource!
Consider all aspects of your life that may qualify you for free training, like your economic standing, your location, and your previous experience, and use them to discuss your eligibility when contacting offices such as those listed below:
State Department of Social and Human Services
You may not know it, but being eligible for things like food benefits and TANF can be qualifiers to eligibility for DSHS caregiver training!
Local government offices strive to equip citizens in their area with the resources they need to be successful economically and socially. What better way to do that than to offer training in in-demand industries like health care, so that they gain the ability to support those in need around them?
Contact your local state department to find out more!
State Department of Labor Services
Another excellent resource is your local labor and industry services department! They often work with unemployed or underemployed workers to receive updated training to begin their desired career.
State Department of Vocational Rehabilitation
Voc Rehab agencies most often work with individuals with disabilities, and are designed to help "prepare for, obtain, maintain, or regain employment."
You can click here to find your local office and see what service you may be eligible for!
3. Community Colleges and Paid Schooling
Along with many other vocational areas of interest, you're likely to find excellent options for certified home health aide training at your local community college or program-specific training school in your area.
But did you know that you may be eligible for FREE home health aide training at those places, as well?
When you are researching schools to attend, you can ask the admissions office about a couple resources that may be available to you:
Federal Funding
Depending on the size of the school, the length of the HHA training program, and the type of credits you earn while attending, your school may be eligible to receive federal funds from the government to pay for your schooling on your behalf when you complete a Free Application for Federal Student Aid (FAFSA).
Applications can be submitted online, and you can receive an estimation of your Pell Grant eligibility immediately after your application is completed!
The application will consider things like your household size and income to determine the portion of grant funding you may be eligible to receive for the year.
Scholarships
It's also not uncommon for schools to work with local government offices or businesses in the area to offer scholarships to eligible students in their programs.
When speaking with the admissions or finance department at the school, you can discuss things like your income or government benefits you may already be receiving to determine if those things qualify you for any funding opportunities available for the home health aide training program you are interested in.
Your socioeconomic standing isn't the only thing that could qualify you for free classes, though. There may also be options for scholarships based on academic merit.
Some scholarship applications will ask for things like proof of previous grades or for you to submit essay answers explaining why you should be selected as a recipient for the free funds available for training. All you have to do is put the work in and go for it!
4. National Resources
With the need for skilled home health aides in high demand around the country, you are likely to come across some national resources that can assist you in finding suitable training.
Below are a few examples to get you started in your search:
The American Red Cross
For more than a century, The American Red Cross has been providing emergency and safety training courses and certifications to people all over the country.
While not available at every location, you can contact your local chapter to inquire about free home health aide training that may be available in your area!
PHI (Paraprofessional Healthcare Institute)
PHI is nationally recognized company aimed at transforming disability services and eldercare, and works with government and private companies across the country to provide top-notch training!
You can inquire here to see if free home health aide training is available in your area.
Health Resources and Services Administration
This government agency strives to provide programs that "strengthen the health workforce and inform workforce-related decision-making."
By providing grants and scholarships to qualified individuals, you can inquire with schools in your area to see if they participate in these government programs that may be available to you!
5. Reimbursement Plans
Lastly, if you are unable to qualify for free classes through any of the methods above, you may want to consider reimbursement options available to you.
It is not uncommon to find employers willing to pay you back for your home health aide schooling costs you paid to be eligible for employment with their company. So while you may have to pay for your training up front, it is possible to get that money back!
You can contact local home health care agencies in your area to inquire about training reimbursement.
How do I find my local home health agencies?
A simple Google search will do the trick.
For example, say you live in the Bronx, New York, you will search for "home health agencies in Bronx, New York".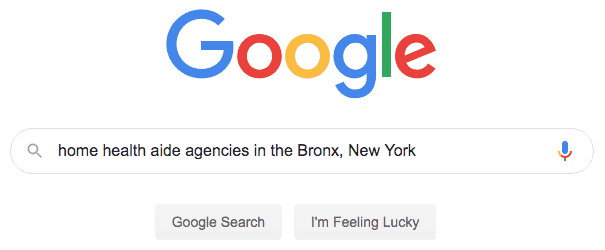 Another example would be to search for "free hha training in the Bronx".
It is easy as that. Now you can see what home health agencies are near you.
Am I eligible to receive free HHA training?
While actual requirements will vary by state and training facility, there are several things you can generally expect to be true prerequisites no matter where in the country you are located:
Age 18 years or older
Government issued picture ID and valid social security card
Ability to read and write in English at a competent level
Fingerprinting
Completed criminal background check
Physical exam, which may include:

Toxicology screening
Proof of immunizations
Proof of negative TB test results
Proof of physical strength, required to assist patients in lifting and mobility
Programs with more specific entrance requirements may include:
Proof of high school diploma or GED (though neither are a federal requirement to receive training or be employed as a home health aide)
Successful completion of an entrance exam
A small non-refundable fee for books or supplies
Proof of eligibility to work in the U.S.
A schedule that allows 100% attendance to the training program
Keep in mind that this list of requirements is a generalization, and may not be true for every training facility in the country. If you have questions or concerns regarding any of the potential entrance requirements, it is best to contact your desired training facility directly to confirm.
What type of information should I be gathering as I research free HHA training?
As with any important decision, thoroughly researching your options for free HHA classes near you is crucial. Just because it's "free" doesn't mean it's the best choice, right?
Here are some things you can keep in mind as you meet with recruiters, speak with HR representatives, or reach out for information on training you may be interested in:
"Is your program accredited?" Arguably, this is the most important information you need to gather prior to making any decision. Free training is useless if it isn't recognized as a valid means to gain your desired employment. You can likely find this information yourself by looking at the program's website; the "About" section is often a good place to not only get history on the facility and the education they offer but also on the governing body that regulates their training. There should be something that clearly states the name of the accreditor, directs you to their website, and/or provides contact information should you have questions or concerns regarding any part of the home health aide program.
"How long is the training you offer?" While the federal regulations require 75 hours of training (by a registered nurse), a program may require more or fewer hours depending on where in the country they are located, the type of funding they receive, and the type of facility it is being offered at. In addition to knowing how many hours of training, you should also be aware of the length of time offered to complete the program. Will you be done in two weeks? A month? Three months? It can vary greatly depending on how many hours a day you will attend, whether you are interested in day or evening classes, and what other scheduling the facility may be working around. Make sure the length and scheduling of the program meet your needs.
"Is there anything required of me after my training is complete?" This is important. When agencies are offering free home health aide training, it is usually because they require an employment contract upon completion. This can be an excellent option if you are looking for immediate job placement and plan to be in the area or available for their required scheduling for a period of time. Be aware of the contract requirements, and what would happen if you were unable to meet those stipulations at any time.
"Is there a cost I will be liable for in order to complete the free training?" Not everything can be 100% free. Some programs may offer the curriculum at no cost but require students to pay for things like background checks or physical exams in order for the training to be considered "complete." If there are costs associated with the training, gather a complete list of the expenses and ask when and how payment will be required. Perhaps they offer payment plans or discounts for paying in full. This information could be one of the most critical pieces to help you decide where to take your training. Things that could possibly be required at a cost to you include:
Background checks
Physical exams
Prerequisites like CPR certification or HIV training
Scrubs/uniforms/shoes
Classroom supplies like textbooks and medical equipment
Registration for the final competency exam
"Do you assist in certification?" Again, this can vary greatly depending on your training facility and/or state's home health aide requirements. For those that do require an HHA certificate, you will want to know whether your program will help you practice for and get scheduled for final evaluations and whether they will submit paperwork to ensure you are properly listed on any required registries. If not, it serves as your cue to verify you know what you will be required to gain certification yourself after training is completed.
Wrapping Up
Now that you are armed with five awesome resources for finding HHA classes for free, all that's left to do is find the option that's best for you. Good luck!