It's exciting to think about starting your new career, and you're ready to get your HHA certification in Florida!
Since Florida operates a little differently than the rest of the country regarding training, employment, and regulation of home health aides, it's best to review all of the important information up front to determine the option that's right for you.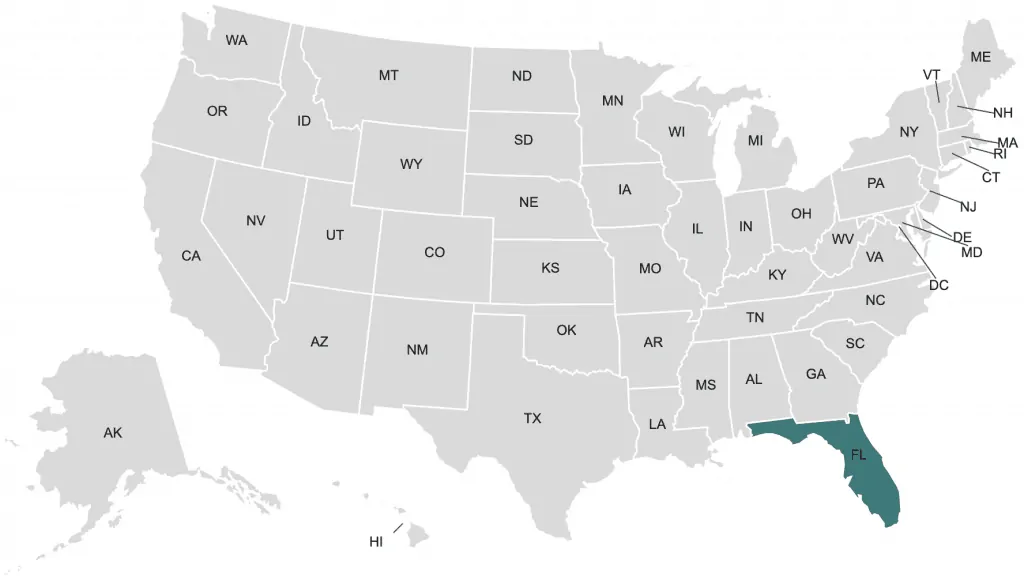 Basic Entrance Requirements
Every program will outline the specifics they require potential students to meet prior to enrollment, and those may vary depending on where you receive your training, but there are basic things you can expect to be asked of you as you research HHA training in your area.
To enroll in HHA classes in Florida, you can expect they'll require you:
To be at least 17 years old,
To have a valid social security card,
To have the ability to meet attendance requirements,
To meet employability standards to work as an HHA in the state.
Some programs may require potential students provide proof of high school diploma or GED, or if they are unable to provide those, to successfully complete an entrance exam before enrolling. And because Florida requires CPR certification that may or may not be included in HHA training, some programs may require you to provide proof of your certification.
How to Become a Home Health Aide in Florida
1. Complete Training Requirements
Requirements depend on where or who you plan to be employed by.
Home health aides in Florida have the option to work as an employee for various types of home health agencies, or may be independent contractors working for themselves with the assistance of a nurse registry.
Find Free Home Health Aide Training Classes Near Me
There are several important differences to consider when choosing your career path, and you will want to be sure you fully understand the options available to you.
Requirements if you are employment at a
licensed-only home health aide agency
You must show proof of at least 40 completed hours of healthcare training, or
Complete the AHCA home health aide test for state licensed only home health agencies
Requirements if you plan to work for a
home health agency that receives Medicare or Medicaid funds
Requirements if you gain employment with the assistance of a
nurse registry
You must have completed 40 hours of training for a home health aide certificate
It is important to note that these are the minimum requirements for the state, and any agency or employer may choose to require more training at their discretion.
Pro Tip: You can inquire with any potential employer as to their initial training requirements and if training is provided directly through their agency if you are unsure. Simply review the application requirements on an employer's website or contact their HR department directly!
Training Curriculum
In addition to the topics required by 42 CFR 484.36(b), it is likely you will spend time reviewing an introduction to the healthcare field, including:
The function and purpose of various care facilities,
Communication skills,
Respecting patient rights,
Skills related to employability,
Your ethical and legal responsibilities,
Infection control, including the required HIV/AIDS training,
Prevention of emergencies and accidents,
Disaster preparedness and fire safety,
Ways to promote patient independence,
On-the-job organization, including skills for observation and medical charting,
Topics related to mental health awareness,
Methods to prevent patient abuse, and
Personal care needs.
Remember that home health aide training of 75 hours or more will include sections where you are required to demonstrate the skills and knowledge you learn in the classroom in a "real-world" setting.
This means you will find yourself learning how to understand and work with various client populations while participating in a patient-care setting – either simulated in a lab, or in actual home-care situations under appropriate supervision.
Pro Tip: It is important to note that some HHA training programs will require successful completion of a CPR course as a prerequisite, and some longer programs may include course materials related to CNA training and offer dual certifications upon completion. Make sure you thoroughly review course length, program details, and entrance requirements prior to enrollment.
What's the difference between a home health agency and a nurse registry?
Home health agencies provide both skilled services, like nurses, therapists, and social workers, and unskilled services, like HHAs, CNAs, and homemaker companions, to patients in the comfort of their own homes.
They hire and employ skilled and unskilled service providers directly, and they may or may not be eligible to receive Medicare and/or Medicaid funds on behalf of their patients.
Nurse registries, on the other hand, do not have any direct employees aside from administrators and office staff. Instead, they match patients with professionals like RNs, LPNs, CNAs, HHAs, and homemaker companions as independent contractors.
Since those who find employment through a nurse registry are not direct employees of a larger company, there is minimal training to begin a career this way.
Both agencies and registries are regulated by Florida's Agency for Health Care Administration (AHCA), though home health aides themselves are not.
2. Complete Final Exam
Since the state of Florida does not license or certify home health aides, there is no state-administered test for those interested in becoming an HHA. There are, however, two different home health aide exams in Florida.
First Exam
The AHCA home health aide test is designed for those interested in pursuing work through a licensed-only home health agency, and tests the knowledge and skills learned during 40 hour training courses.
It is important to understand that the AHCA home health aide test does not meet federal requirements, and is insufficient to gain employment at a home health agency that receives federal funds.
Second Exam
For those who plan to work for home health agencies that receive funds for patients from Medicare or Medicaid have different testing standards.
These potential HHAs must complete a competency evaluation based on information learned during 75 hour or more training courses, and their testing must strictly follow guidelines outlined in the federal regulation.
The most notable difference is that this testing includes an observation of the HHA as they perform tasks with a patient, and is not limited to a written exam.
Federal regulations state that:
A registered nurse must perform the evaluation
Students must be observed and evaluated performing:

Range of motion and client positioning
Ambulation and appropriate transfer techniques
Techniques related to personal hygiene and grooming
Temperature, pulse, and respiration reading and recording
Communication skills

All other topics students learned in class may be covered using written or observational testing
Regardless of the type of home health aide exam in Florida you take, the exam will be administered by your training program. Be sure to inquire with the home health aide training programs you are interested in up front regarding the home health aide exam they offer.
Learn How to Pass Your Home Health Aide Exam
3. Maintain Continuing Education Requirements
All home health aides employed by any home health agency or independently contracted through a nurse registry must:
Complete HIV/AIDS training course
Obtain and maintain current CPR certification
In addition, home health aides employed by a home health agency eligible to receive Medicare or Medicaid funding must comply with federal regulations, which include:
12 hours of inservice training in a 12 month period, based on either the calendar year or personal hire date.
Pro Tip: The state required HIV/AIDS training can be counted toward the 12 hour yearly federal requirement.
Where can I find training in Florida?
HHA training in Florida is available through several sources:
Can I get free training?
Yes. Per the state's regulations, any home health agency that provides home health aide training but is not considered an "approved non-public postsecondary career school" cannot charge a fee to any individual who undergoes the training.
That means training is provided at no charge to accepted applicants!
Pro Tip: Home health agencies who fall under this category are not allowed to advertise they offer "training for home health aides." Agencies must instead list in either classified ads or on their websites "help wanted," or can indicate they are hiring home health aides and "will train."
​Be sure to keep an eye out for these important phrases when researching home health agencies!
And when in doubt don't be afraid to reach out to the agency directly to confirm training fees and hiring requirements.
What if I received my certification in a state other than Florida?
To work as a home health aide in Florida, simply provide documentation of your training, coursework, and/or certification or licensure to the agency or nurse registry you intend to work for.
What if I lose my certificate?
Keeping track of your documentation is important, since being able to show proof of your training is a hiring requirement for any agency or nurse registry.
And because the state of Florida does not maintain a central registry for home health aides, you would need to contact your training facility directly to receive a copy of your certificate.
What if I have my CNA certificate in Florida?
Home health agencies may employ certified nursing assistants as home health aides.
Since CNAs are regulated by a different agency than HHAs, you can contact the Florida Board of Nursing, Council on Certified Nursing Assistants directly for questions regarding certification and training.
Who do I contact if I have questions regarding training or employment?
If your question cannot be answered by asking your training facility or potential employer directly, you can contact the Agency for Health Care Administration (AHCA):
Ph: (850) 412-4403
Email: [email protected]
Web: ahca.myflorida.com
Looking for Another State?